A 5-night and 6-day Journey Through the Senses to Live in the Wealth of Wellness: July 12-17, 2022
About The Wellness Retreat
Journey through the senses and return to a sense of wholeness in our private overwater resort in San Pedro, Belize. Designed as a fully inclusive and individually crafted wellness experience, Lina Point's Wellness Retreat features workshops, spa treatments and adventures with some of Belize's best practitioners in the areas of metaphysics, health, wellness and eco-tourism. Come choose-your-own adventure. At Lina Point Wellness Retreat, partake in all of it or none of it. The journey is up to you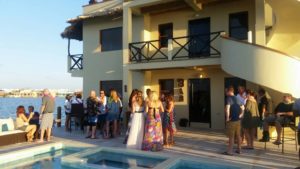 All Lina Point Signature Guests Will Receive:
6 days and 5 nights luxury accommodations
14 gourmet organic meals
5 Workshops to choose from throughout your stay
4 yoga classes + 1 guided meditation
2 (1-hour) massage treatments of your choice
3 evening ceremonies (fire & drumming, cacao and sound bathing)
1 beach party with DJ, dinner, bonfire, snacks and drinks
2 private cart transfers from San Pedro airport to Lina Point
Access to all the overwater and island adventures for relaxation, meditation and exploration
You are on your individual journey at Lina Point. We invite you to attend all, some or none of the activities. This week is about you.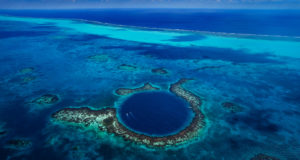 Day 1: Arrival
Once you arrive to the island by boat or by flight, WE OFFER FREE PICK-UP to bring you on a 15 minute ride to the resort. We will be needing your time of arrival to the island and if it is by water tax or by flight. The magic of arriving as strangers, and leaving as friends, is well under-way.
When you arrive at Lina Point we will gather for delicious cocktails and enjoy a beautiful ocean sunset, before we have our first dinner together. This evening we will have a sacred sound bath, to start connecting with our sense of sound and to step into the journey of this magical week ahead.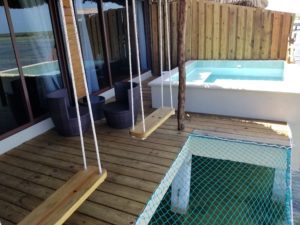 Day 2: Day of Sound
Your first full day at Lina Point will immediately ground you in your surroundings. You will wakeup in either an overwater cabana or an overwater hotel suite. After fresh fruits and juices to begin to cleanse and activate your body, you'll have the option to go for a grounding morning meditation or straight to a healthy, delicious breakfast.
After breakfast there will be a journaling workshop which is optional to attend. We will have a nutritious lunch + free time or spa treatments in the afternoon to unwind and begin to reconnect you, with you. This evening we will enjoy a gourmet plant-based meal and have an easy rest by the sea.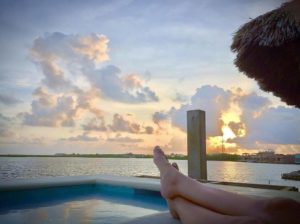 Day 3: Day of Touch and Movement
Today is the day of Touch and Movement designed to get you out of your mind and into the body. You will wake up to delicious fruits and juices to begin your day, followed by an invigorating Ecstatic Dance class. After this immersive workshop we will gather for a lavish brunch overwater at Lina Point.
Enjoy a free afternoon where you might want to explore more options for movement. We recommend fishing the reefs, snorkeling the marine reserves, lounge by the pool, or maybe venturing down to secret beach for a relaxing afternoon. The choice is yours. In the evening, after a gourmet plant-based meal and desserts to swoon for, a mystical journey through fire with Caribbean drummers will have you dancing beneath the stars.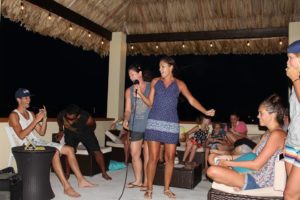 Day 4: Day of Taste
Enjoy waking up slowly or start your day off with an energizing yoga class by the sea. Today is a day of taste. Lina Point is world famous for its cuisine, and today you get to peak behind the curtain. The focus is on workshops in plant based cuisine and experience eating in a totally different way.
Workshops on gut health and other tasty delights will be offered. The Lina Point team starts to feel like family and the workshops with masters in their field open you up to new possibilities. In the evening, we invite our Indigenous neighbors to offer native cacao in a ceremony. Cacao is a heart-opening plant medicine native to the land of Belize.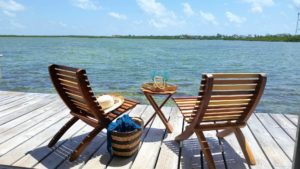 Day 5: Day of Silence and Seeing
Today is the day where we focus on silence, to quiet our minds and enhance our other senses. The invitation is to explore silence and let your time and experiences at Lina Point settle and integrate within you. You'll enjoy a silent morning with an incredible meditation exercise in the House of Masters followed by a silent breakfast.
Our workshop of the day will lead you through this relaxing spiritual cleanse. During this experience, you'll pass through earth, fire, wind, and water, enjoying a healing Mayan wellness ritual. Indulge in a clay ritual, followed by a refreshing coconut bath. You will explore communication without words as you enjoy the healing properties of the clay followed by a refreshing cleanse in the sea.
Until sunset we will respect the silence of this day. We invite you to take some time to journal, rest or enjoy a restorative massage treatment. To close this week we will celebrate with a fun party at the beach, including sunset, live music/DJ, bonfire, dinner, snacks and drinks.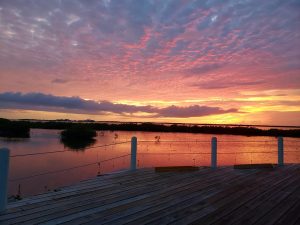 Day 6: Departure
We'll meet for a nice morning yoga session before enjoying our last breakfast together. We'll depart Lina Point for the private transfer to the San Pedro Airport. The final day at Lina Point is the first day to the rest of your life.
By activating the senses in community and fellowship, you'll start to uncover the areas of your life that have hidden blocks and can learn how to bring it to the surface to be cleared.
By cleansing using our cleansing protocol, spa treatments and Plant Based menu (Medical Medium protocol available), you'll learn to have a new relationship with food
You'll discover a new possibility for your life or business because of the biomimetics of nature as you're surrounded by it in the sea at Lina Point. The regenerative qualities of our environment mirror the possibility of our life, business and relationships as we learn to listen.
SINGLES: $2,750
Single occupancy in an Overwater Hotel Suite
DOUBLES: $2,800 PER PERSON
Double occupancy in an Overwater Cabana
SINGLES: $3,300
Single occupancy in an Overwater Cabana
The International Costa Maya Festival is a celebration of the Mundo Maya countries throughout Central America. Dancers, cultural performers, and musical entertainers from these countries are hosted in San Pedro Town for three days of celebrations.
Our favorite time of year is just around the corner, LOBSTER SEASON! Lobster season in Belize opens on June 15th every year and closes on February 15th. There is so much lobster available during the summers here that prices for this tasty treat are at their absolute lowest.